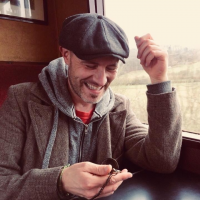 Ross Hitchin
Humor, Science Fiction, Fantasy, Teen & Young Adult
Profession

Author, Guitar Tutor
***REVIEWERS WANTED. Contact me***

Ross's love of reading Genre Fiction began with the work of Douglas Adams, shortly followed by J.R.R Tolkien and Terry Pratchett. Funny Sci-fi and Fantasy stories are his jam! Fast forward 30 years, he now has his debut novel out.

Aside from books, Ross is a proud Whovian and something of a Muso!

When not immersed in the world of Fantasy/Sci-fi, he teaches children guitar and is a Dad to two children.
The fact is, I don't know where my ideas come from. Nor does any writer. The only real answer is to drink way too much coffee and buy yourself a desk that doesn't collapse when you beat your head against it.
Douglas Adams
Ways to reach Ross Hitchin